Digital companies in France: a leading sector

in the Basque Country
The Basque Country is recognised for its dynamism in the digital business and its desire to innovate in this sector. The creation of a site specializing in the digital industry, the Izarbel technology park in Bidart, has helped to legitimize the region's expertise and attractiveness. Its 20 hectares of reception area are irrigated by very high speed connections from several operator networks and benefit from a shared platform of digital services. Every year, many software developers, start-ups and e-commerce players settle in the region because of its living environment and its ecosystem, which is favorable to the development of this sector of activity, for example: meilleurduchef.com, Beyourself, Patatam, Sophia Genetics, etc.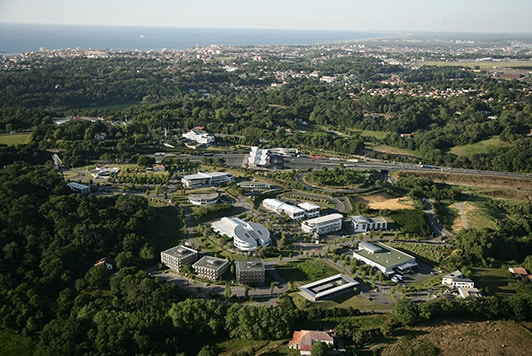 Digital business clusters and technopoles in the Basque Country
Thanks to these groupings of digital business companies, or clusters, business incubators and technopoles, the synergies and potential for development of the activities of these digital companies are multiplied. 
The Lanazia business incubators in Ascain and Izarbel in Bidart offer reception and coaching solutions for e-businesses. Once a month, these incubators organize conferences to exchange best practices as well as collective brainstorming sessions to mutually reflect on a traffic creation strategy (traffic lab, conversion lab, social lab). A complete network of service providers (web agencies, SEO experts, graphic designers, traffic creation specialists) is present in the Basque Country.
The Izarbel technology park, located on 10 hectares in Bidart and specializing in cutting-edge digital technology, is home to 110 companies with more than 1000 employees. Digital service companies, software publishers, development companies, digital communication players, e-commerce players, etc. This technology park is very attractive, so much so that an extension of this zone over nearly 15 hectares should be created. Izarbel is also a start-up incubator, three company hotels, a school (ESTIA – Ecole Supérieure des Technologies Industrielles Avancées), and the Pays Basque Digital cluster, which is at the origin of the French Tech Pays Basque.
A network of more than 60 digital companies (digital services companies – ESN, software publishers, web agencies, data centers, pure-players, artificial intelligence start-ups, etc.), the Pays Basque Digital cluster represents around 1,500 qualified jobs, generating more than €150 million in turnover. The aim of this cluster, like the Izarbel technology park as a whole, is to help digital companies develop their business, but also to promote the Basque Country's expertise in this sector.
The Izarbel technopole is now home to :
Specific support is offered by the Technology Resource Centre or by the Communities of Scientific and Technological Interest.
Focus on software publishers and players in the video game industry in the Basque Country
Among the digital companies based in the Basque Country and belonging to the Pays Basque Digital cluster, there are several companies recognised in France, Europe and the world for their expertise in software and application publishing. Here are a few examples:
Njuko: a Basque pure-player specialized in sports event management, Njuko is part of the Pays Basque Digital cluster and aims to offer a turnkey application for the management and digitalisation of events. Initially at the head of an online registration platform, Njuko is now a partner of major sporting competitions in France and Europe: marathons (Milan, London, Frankfurt, Geneva, Luxembourg, Nantes, Toulouse, etc.), trails (SaintéLyon), but also French federations (athletics, triathlon, cycling, skiing) and other legendary races, such as the famous Marseille-Cassis run. Established by Basque Invest, Njuko was bought by Asics, the leading running brand, in December 2022.

ENVEA: founded in 1978, this digital company is one of the pioneers in its field in France, designing and marketing environmental analysis and measurement systems. Present in more than 80 countries, ENVEA is now recognised for its expertise and has turned its specialization into a major competitive strength, with a clear link to our current problems: limiting environmental impacts and the challenge of innovating with more sustainable solutions.
SEI (for Savoir-faire Engagement Innovation) develops software solutions in Bidart to support companies, particularly in terms of supply chain management. Developing tailor-made applications for various problems (sales forecasts, purchasing, quality control, stock management, etc.), SEI works for large local and national companies: Safran, Sokoa, Boardriders, Aigle, Lafuma, etc.
Some companies, such as MAXSEA, have chosen to specialize their digital services activity in a sector linked to our environment: the sea and the yachting industry. Indeed, MAXSEA, located at the Izarbel technology park, offers marine navigation software for maritime professionals. Editing skipper software, they equipped more than 80% of the professional skippers around the world.

Sig-Image has specialized since the 1990s in software for the public works and construction industries. As one of the three leading companies in France in this sector, Sig-Image's clients include major industry accounts such as Bouygues Construction, Vinci and Eiffage Energie. Anchored in the Basque region since its creation, it is constantly seeking development and innovation and collaborates with ESTIA (Ecole Supérieure des Technologies Industrielles Avancées) as well as Aerospace Valley and other Basque, French and Spanish technological clusters.
The Basque Country, and more generally New Aquitaine, is a particularly dynamic region in the video game sector, with 150 companies established, such as the world-famous companies Asobo and Ubisoft, located in Bordeaux, 2 hours from the Basque coast. According to Martial Brossard, co-founder of Asobo, "the French are known for two things. There is a graphic culture, (…), and the technical aspect. We train excellent engineers (…), it is a recognised and sought-after expertise". 
The video game industry represents a turnover of 5 billion euros in France, a figure that should continue to grow given the growing appetite of users. To position itself in this buoyant market and to train the engineers and developers of tomorrow, ESTIA, based in Bidart, has created the ESTIA Tech department, which aims to "promote technologies from the world of video games and gaming, such as augmented reality and virtual reality", explains Olivier Larre, head of the ESTIA Tech department. ESTIA was able to develop this service for its students in the heart of the Basque technology park as part of the "Game Labs Net" project and in partnership with the ERDF (European Regional Development Fund) for the southern part of France, Spain and Portugal.
Some Basque companies are banking on this booming industry to develop offers in the field of video games, such as Madcow Entertainment France (established by Basque Invest), which markets interactive and multimedia products with its Teknofun brand, via licenses for products derived from major cartoons or video games, inspired by pop culture. Fulllife, a company from Biarritz, has surfed on the digital video game industry to develop the first "Gameswear company": a range of physical, textile products, designed in a responsible manner, for gamers. Founded by players of the textile and board sports industry (Boardriders Europe, DC Shoes, Element…), Fulllife is taking advantage of the gaming craze to innovate and "create a link between the real and the virtual".
The Basque Country is also fortunate to be a reference region in the audiovisual sector. Indeed, the Pôle Image Pays Basque offers a BTS Audiovisual to train tomorrow's talents in engineering techniques, sound and editing and post-production.
In this field, Basque Invest is proud to have helped three companies to set up in the Basque Country:
Intelligence Audio: an immersive sound production studio, the company recently inaugurated its establishment in Bayonne and works with big names in the music industry and renowned events.
Kestu: based in Ascain, Kestu is a video production agency specializing in the production, shooting and post-production of institutional and documentary films. 
Disnosc: a specialist in animated films, the company is based in Anglet and works with talents and producers in France and abroad.
The advantages of the Basque Country for a digital services company
"The first asset is the technology park and its research platforms, including the school and possible scientific partnerships. The second asset is the optimisation of productivity thanks to the living environment and the very low transport time. All the heads of the companies that have set up here have noted this!"

Indeed, the clusters and economic groupings around the digital business are real assets for any digital company wishing to set up in the Basque Country. Thanks to the various companies, but also to the infrastructures made available, as well as the engineering school and the various training courses, you will have all the intellectual, technological and human resources here to carry out your project successfully. 

These dedicated sites, Izarbel, Lanazia, as well as Technocité, are real accelerators of high-potential start-ups. Moreover, one of the main challenges of New Aquitaine, "Start-up Region", is to position the region among the most attractive regions for start-ups! The Basque Country, with its young start-ups, seems to be well in the running!
Thanks to its living environment, the Basque Country is also conducive to freelance work and "digital nomad" status. Many entrepreneurs come to the Basque Country to take advantage of its superb environment, while working with national or international companies, and capitalizing on the resources available to freelance workers in the digital business. This new way of working attracts competent, qualified profiles to our territory, who wish to combine innovation, excellence in their work and quality of life. 
Several coworking spaces are developing, such as the Connecteur, a coworking space in Biarritz. It is surfing on this "digital nomad" trend and offers coworking, training and coaching within its space in order to facilitate the work of entrepreneurs, and to offer them a place to live with all the services and infrastructures they need. 
Basque Invest is very happy to count among its partners and clients major companies of the digital economy in France. If you have a digital start-up project, or wish to set up your digital company in the Basque Country, contact us so that we can discuss, advise and support you.