SETTING UP YOUR BUSINESS at

Izarbel Science Park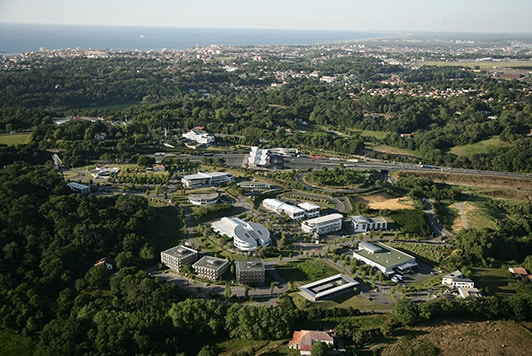 AN EFFICIENT PROFESSIONAL LOCATION
Dedicated to new technologies, this (constantly expanding) 20 ha park provides the resources needed for your company's optimal development, a fibre optic network and privileged access to the best skills.
Located in one of the Basque Country's most beautiful sites, close to the Atlantic Ocean and the Pyrenees, Izarbel Science Park is the perfect business location, combining efficiency and an excellent quality of life.
The science park is ideally located :
Just 500 metres from the A63 motorway exit (Biarritz)

2 minutes from Bayonne-Anglet-Biarritz International Airport

2 minutes from Biarritz high-speed railway station

30 minutes from San Sebastian/Hondarribia airport, serving the entire Iberian Peninsula
With over 100 Information & Communication Technology companies on site, the science park will provide your business a strong and dynamic economic environment, supported by wide ranging expertise :
Qualified resources from ESTIA Institute of Technology (engineering school) :
ESTIA Entreprendre provides support for innovative projects
ESTIA Research : 2 R&D laboratories : IKASI (innovation), ENERGEA (Electrical Engineering & Automation for Renewable Energies)
Whatever the stage of your business' development, at Izarbel you will find a property solution suited to your needs: incubator, nursery, business centre, office space and land to build your own premises.
Plus :
Izarbel provides a children's nursery for company staff !