Available business locations for companies specialized

in the fields of sport and fashion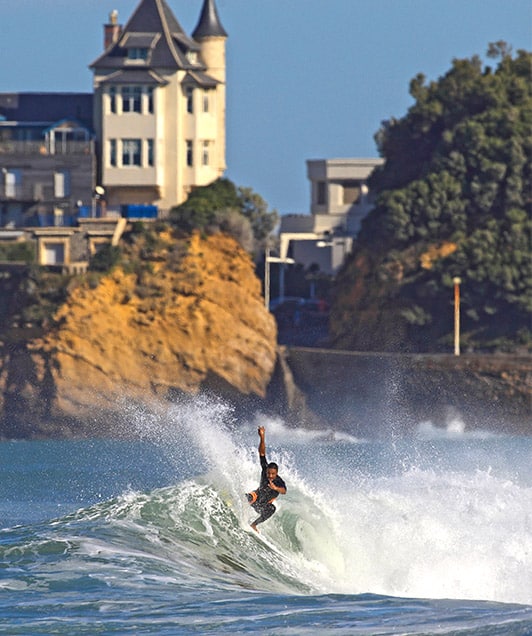 The fashion industry is a very dynamic sector. It contributes more to the national economy than many industrial sectors. Production, creation, quality, trade … The sector provides a wide range of different jobs.
The Basque Country : located between the ocean and mountains it benefits from a temperate climate, making it the ideal place to test and experiment with all board sport products.
Attached to surfing since the 1950's, the Basque Coast has constantly explored this sector in all its aspects. Today it is home to 40 surf-related brands, including the world's 8 leading 8 brands.
1.2 billion euros are managed here each year (European market). Furthermore, around fifty  shapers are present along the coastline. Their turnover is estimated at 4 million euros. The board sports industry employs 3 200 people.
ALONGSIDE WORLD LEADERS, THIS SECTOR HAS DEVELOPED COMPLEMENTARY OFFERS :
services providers (communication, audiovisual production, serigraphy, textiles, software development, store equipment, etc.)
university training : the Basque Country is the only place in Europe to offer a Master's in Board Sports Engineering (Bayonne). Over the years its graduates have become seasoned professionals in the board sports industry's main brands.
It was therefore time to set up a business park dedicated to the board sports industry.
A PRIVILEGED PLACE TO DEVELOP
Baïa Park is a site aimed at hosting industries and services in the fields of surfing, skateboarding and snowboarding. This business park is in an exceptional location, just 2 minutes from the Basque Coast's best surf spots and with immediate access to motorways and Biarritz airport.
Olatu Leku Business Innovation Center is part of Baïa Park, and is both a business centre and a business incubator. Inaugurated in 2012, today it is home to 22 companies and 50 members of staff.
Some emblematic brands at Baïa Park : Electric Europe, Oakley France, Fox France, Skins France, Napco Global, Eurosima cluster. Despite its success, Baïa Park still has space available.
Would you like to visit ?